Monday, October 29, 2018 / by Erin Gomez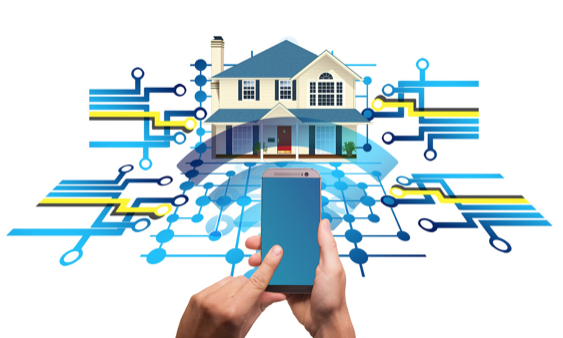 4 Smart Home Technologies that You Should Invest In Today
With the prices of smart technology and home automation dropping, it can be tempting to get in on the action. Except knowing where to start can be a bit overwhelming. However, the great thing about upgrading your home is that you can customize it to fit your needs and lifestyle.
1. Control The Temperature
Smart thermostats are some of the most popular tech on the market at the moment. If you've ever left the house only to worry if you left the heat or AC on all day this is perfect for you. They're incredibly easy to program and use, some will even automatically learn your behavior and turn on and off when you are not around. Others come paired with an app. From your smartphone you can easily check in with your home and control its settings.
Not only that, smart thermostats are an excellent way to cut down on energy waste. In fact, according to the Consumer Technology Association, a smart thermostat can cut down your heating and cooling costs by 12-15 percent.
2. Feel More Secure
It should be no surprise that the number one reason consumers invest in smart tech is for security. In fact, 63 percent of buyers state safety as the reason they made the investment. With so many options on the market, you can pick and choose the perfect system for you.
Security cameras have always been popular, but you are no longer limited to a livestream that you can watch from your computer or phone. There are now cameras that can identify the difference between friendly and hostile movements so that you do not constantly have to check in. There are video streams that pop up when your doorbell rings and cameras you can easily install and move around on your own. You can pick and choose which options you feel the most comfortable with.
Another growing popular feature is smart locks. These allow you to lock and unlock your door from your phone. It creates a tighter security while eliminating the needs for keys. Now you can easily monitor who has entered your home.
3. Invest in Smart Lights and Plugs
If you want to take your time in dabbling in home automations, look into smart lights and plugs. These are easy to install and are incredibly affordable. One of the great things about smart lighting it gives you complete control over your setup and can be an excellent way to cut back on costs.
Another great investment is in smart plugs. There are a number of incredibly creative ways to put these to use. They can be a safety net that turns off your dryer in the middle of the night or you can take advantage of the remote technology to turn on a slow cooker and prepare dinner while you're at work.
4. Centralize Your System
If you are committed to fully updating your home and putting in as much automation as possible, you will want to invest in a centralized automation system. This will help all your various devices to "talk" to each other and allow for you to control all your systems from one centralized point. It is also important to keep in mind that most smart tech runs on Wifi, so make sure you have a strong signal throughout your home.
You may need some help to set this up, but it is worth the investment. The latest trends in home improvement show that smart technology is the next big thing. In the last month, homes in Lebanon, Oregon, have sold on average for $242,000 and investing in smart tech is a great way to stand out from your neighbors.
Easier Life
With new devices on the market every day, customizing your home has never been easier or more affordable. Find out what systems best fit your needs. With the proper planning, home automations can save you money, energy, and make your life easier.
Photo courtesy of Pixabay.
Article provided by Suzie Wilson from HappierHome.net.