If you would like your community events posted here, please email frontdesk@LauraGillott.com your
event information and we will be happy to post it for you!




Tai Chi At The Library
The Library will be hosting Tai Chi on Tuesdays from
5:30-7pm for adults 18 and older.


Instructor Jeff Herda comes to the Library with 30 years of experience studying and teaching Tai Chi. The class practice will be traditional Yang Style. Classes will consist of stretching, Qigong (energy work) and basic exercises to help relax and breath. Please wear comfortable clothing. Tai Chi is free and one does not need a library card to attend.



_______________



Lebanon's Farmers Market
Thursday's on the corner of Grant + Main Street 2pm - 6pm
Fresh Fruits, Vegetables, Pastured Beef, Lamb, Pork, Honey, Jams and Preserves, Baked Goods, Handmade Wool Products, Etc.
To view more about the Market, Click Here
_______________



Mini Succulent Diffuser Class
July 10th - 6:30-8pm
266 E Grant Street Lebanon, OR 97355


Join us for this fun and easy DIY Succulent Terrarium Workshop! Hosted by Amanda Primasing, Holisitic Wellness Educator with Oily Mama Inc. and Bethany Magnie with Rock & Root.
The cost of class is $15 and includes ONE large succulent and everything you'll need to create.
Each ticket also includes a small bottle of essential oil to go with your new diffuser pot and a beautiful crystal of your choice!
Snacks and drinks will be served!
Questions or concerns? Contact Amanda Primasing - (541) 409-5169
*This event is outside, please bring a light jacket.


______________


River Rhythms
Thursday's Starting July 4th
5:30pm - 9:00pm
Montieth Park in Albany
All ages welcome! Enjoy free music, dancing and fun for everyone! Food Trucks, booths, give aways and more!




Monday, July 15th, 2019


Bare Land / Home Builder Class
We will be going over the process of building
your dream home from start to finish!






Tuesday, July 16th, 2019


Enjoy Happy hour drinks while learning the
steps to buying a home in 2019!


CLICK HERE to RSVP.

Thursday, July 18th, 2019


This will be a valuable class with lots of great information! Learn about the process of selling your home & more!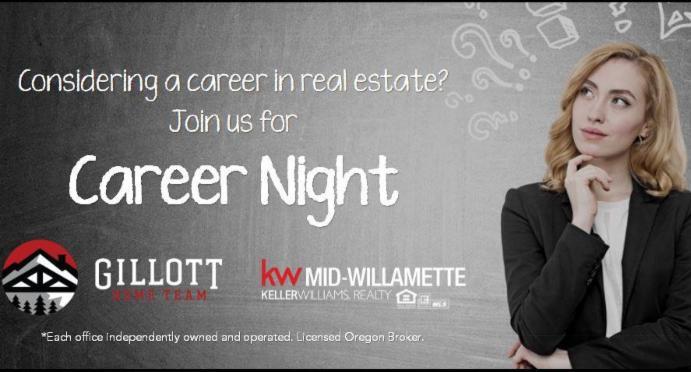 Career Night
Tuesday, July 23rd, 2019
Considering a carrier in real estate?
Learn about what it takes to become a realtor!


CLICK HERE to RSVP.





Fridays Starting August 2nd, 2019


Real Estate Investor Class
We will be learning about the four key parts on investing, plus, we'll provide a one page worksheet on how to analyze an
investment property before you purchase.