Gillott Team - Core Value Award Winners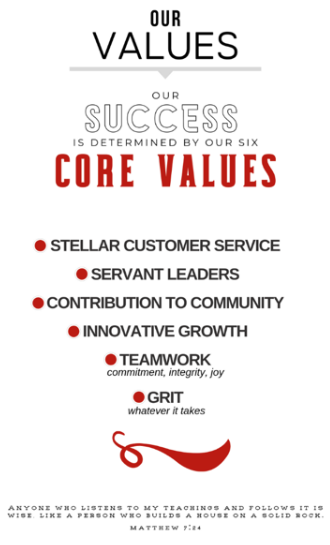 Bill:
I'm grateful for Bill's example of what it is to have a true servant's heart.
Just to name a few....
He loves our team and shows it in his presence at the office with an encouraging word and laughter, his input on commercial business, his commitment to our out of office team events such as skating the Strawberry Parade and Giving it his all on Red day that are two of my favorites to watch him shine.
His love for his family, church and those who need an extra helping hand.
His participation in community projects that go with his passion to make Lebanon shine.
His guidance on past and present committee's in Lebanon.
and yes there are many more but we don't have all day.
A godly example we could all strive to follow.
Mary Jo: Teamwork & Grit
I had a difficult time selecting just one individual when our entire team reflects these values every day with energy and enthusiasm. So I had to pick just one and chose the one I have known for a long time.
Mary Jo loves the Lord and gives of herself every day to bring honor and glory to the one whom all blessings flow.
Mary Jo approached each new day with a bursting positive personality that is impossible to ignore. Upbeat does not describe the Joy and appreciation she shares every day. Hard-working Mary Jo is always ready to step in help out and or start something new with amazing energy and follow-through.
Professional and integrity she echos our team spirit and values in thought word and deed.
I am passing the Award to ......
Jessica Woody - you are amazing! you take such great care of our sellers and listing files and that entire department and you do so much for the agents!
Jessica has strong leadership skills and does it with a smile on her face. She doesn't need to be micromanaged, she knows her job and she takes care of what needs to be done and she doesn't quit until all is completed. She has helped to implement systems to make sure all the I''s are dotted and T's are crossed and makes sure nothing falls through the cracks, she a problem solver. She goes on every realtor tour, collects feedback and communicates with our clients. I have heard her many times on the phone and love beams from her voice when talking with them.
Jessica goes above and beyond and truly goes the extra mile. With all the interruptions she encounters in a day, there is always a smile on her face and a willingness to help. She is efficient, hard-working and does it with a positive attitude.
So Blessed to have Jessica on our team!I
Amy: I'am handing off the next core value award to Amy Vasfaret. I don't get to work with Amy on a daily basis but my office is near hers and I get to spend some time with her on tour as well.Just in this amount of time Amy always stands out to me and inspires me. Amy is always enthusiastic about her job and helping others. You can tell how much of a passion she has for real estate. From what I have seen and heard witnessing Amy with her clients she is always there for them as soon as they need her and gives them her all. As well as anytime the listing team is behind or short handed and is needing help she has been right there to offer help even when she doesn't have to.
Amy provides amazing customer service, has great team work, and always seems to be looking for growth. Her honest and bold personality is a breath of fresh air and I absolutely love every moment at work that I have with her. Thanks for making me laugh and smile at work too! Your amazing Amy!! The team is lucky to have you!
Ali:
My choice this week is Ali VanLoovan. One of the funniest, honest, most real individuals I have ever met. She's also incredibly supportive, patient and understanding. Like a lot of the agents & tc's at LGT she's killing this job while also being a mom and a wife. That alone is worthy of all the awards given. Thank you Ali for all that you have taught me so far, all the outstanding work you've done on my behalf, all the knowledge you will continue to pour into me and for the many phone calls about all the things in the future. You're amazing.
MacKenzie:
Mackenzie is the walking, talking, prime example of the Gillott Team Core Values. Kenzie goes above and beyond not only for her clients but for her team as well. She is always there to answer the phone, help solve a problem, give advice on how to word something, or even meet your clients when you are unable to. All of her clients receive superior communication and she does anything possible to make all deals a win-win.Even though she is busy juggling work and family, she always makes time for others and gives more of herself, even if she is in the hospital bed! Makenzie is a great realtor, teammate, friend, wife, and mother that exhibits all of our core values.
SHERRI:
The person I picked to win the Core Values Award this week is Sherri Ellis.
Anyone who spends time around Sherri knows she exhibits all of these values and then some. Stellar customer service - Sherri Ellis is constantly in her office on the phone with her clients, she picks up calls on the weekends, she also fiercely protects her clients.
Leadership - Sherri is always up to answer any of my 100 questions, she is always willing to be a listening ear when you need to vent or need help with problem solving. She is always up for a challenge and is willing to get in the trenches with you to solve them. Community - Sherri is always signing up to volunteer her time in any community involvement. She is always willing to lend a helping hand when needed. Growth - She is constantly growing and adapting. She signs up for classes and brings us back a wealth of knowledge. She is also always willing to ask the hard questions so we can all better understand. She isn't afraid to challenge what's being said in order to grow and learn. Teamwork - I am sure everyone has heard my deck story.. But I made a mistake that could have cost me quite a bit of money.. When Sherri heard this story she was ready to pitch in her own money to help me get it taken care of no questions asked. She is always willing to help open a door, show up when needed and go above and beyond for her teammates.
Grit - She's Got grit. Sherri is always willing to do what it takes to get it done. She isn't afraid to get her hands dirty.
Sherri is an excellent example of what I aspire to be when I grow up. Shes loves the lord, she fiercely loves and protects her family, and she is an absolute team player. Sherri will never allow you to be complacent and those are the type of people you want to surround yourself with. We are all so blessed to work and grow alongside you.
JASON MOORE: On one hand, this is a hard choice because if you are a member of this team, you exhibit these core values at an extraordinary level. That being said, picking this person to receive this award is actually pretty easy. I've been in the real estate trenches with this person since early on in the Gillott Home Team's journey with Keller Williams and his genuineness, sincerity and integrity are evident. In regards to Stellar Customer Service: Just ask the homeless veteran who is now a home owner about his customer service. Stellar would be an understatement.As a Servant Leader: He serves us all as a member of the leadership team here at the office where he shares in making decisions that lead our team to continued growth and success. It's a commitment that takes time away from his personal sales business and we should all appreciate the sacrifice.
His Contribution to Community: Shows up in the multitude of ways that this teams works in our community. He is always there and our community benefits. He also contributes to the community by being a true and good family man, loving God, his wife, kids and grandbabies. Those kind of men contribute to a community in ways that are priceless.
As to Innovative Growth: He stepped up to be the first Lead Buyer's Agent for our team where he was instrumental in growing a new generation of successful buyer's agents who are now seasoned and successful and following his lead in continuing to grow the team even more!
His Grit: Just call him Birddog, he knows how to find a deal when a deal has to be found. He can also roll with a punch and stand back up to keep moving forward. That takes grit.
His Teamwork: To me, this is where he shines! It shows up in all kinds of shapes and forms. He'll let you know if you have a lead waiting in the system. He'll open a door for you. He'll cover your floor so you can do whatever popped up. He'll be there to set up, run & tear down whatever event you may be working on. Just don't ask him to play Santa :-) There's lots more stuff and it's all great but more important is the way I have witnessed him be there for teammates on personal levels. Many of the younger agents, past and present, have looked to him as a "Team Dad" over the years and have benefited from advice on whatever problems they were going through or issues they were working on. Have an emergency? Say the word and it's GO TIME! I know this one personally :-) I know if you need him, business or personal, this teammate is willing to be there. Period.I am glad to have worked with him for many years now and I hope we can work together for many more. He's a keeper and a friend! My choice to receive the Core Value Award this week is Jason Moore.
LORI:
The person that chose for the core value award this week is an obvious choice in my mind. This person shows us Stellar Customer Service, Leadership, Growth and Teamwork with True Grit.
This person represents and exhibits the values of our team and what our Team is known for locally and nationally.
Lori Hill is dedicated, dependable. selfless Leader and Team Member.
She always is working hard to move OUR business forward and there is nothing she won't do. At the drop of a hat She will travel for you, stay late for you ... go to a closing or open a door and she is always looking out for our Team. Lori is the person that you can depend on to have her stuff together and have extra for you when YOU don't. Lori committed an amazing amount of Grit and drive.... She shows up everyday, runs all day.... day after day. Most could not run at this high level but she does! Many of the things she does for us....... is behind the scenes and that we all get to take credit for everyday but without her making it all work we would not have the level of success we have today.
Lastly, Lori is the kind of person that everyone loves to call a friend. Any given day she has people in her office for one thing or another and her door is always open. She loves to be the go to person and I am very lucky that I can just look out my door and visit with her
Erin Shafer.
She is very much a team player by being a part of the solution to our Laura Gillott Team.Erin has a keenness and quickness in understanding and dealing with business situations. She has successfully closed many short sales back in the Harpole days and I always admired her cheerfulness and tenacity while doing so.She brings warmth of spirit, a contagious smile, commitment to follow through with excellent communication and honesty.
I'm so happy she is on the Laura Gillott Team.
It takes a polished gem to shine like she does.
Katy Ellis
I have chosen an individual that I have admired and wanted to work with again since I worked on my most difficult short sale ever with the Harpole team. The next core value award goes to Katy Ellis.
The positive attitude she displayed on a difficult transaction was amazing. Katy does anything to make a deal a win-win for all parties. She showed great character, grace, integrity, commitment to her buyers, the listing agent, and the sellers. Her communication and teamwork was exemplary. She really embodies what the Gillott Home Team Core Values stands for and continues to be an incredible asset to the team.
In the amount of time I have been working with the listing team, she has shown great compassion, understanding, and amazing customer service to her clients and to the entire administrative team. The joy she has for real estate really shines through and I know she will be a force to be reckoned with within this industry.
KATHY DENNIS
For this week's Core Value award, I choose Kathy. Kathy greets all our clients and prospective clients with a friendly smile and makes them feel welcome when they enter our office. She is always ready and willing to help with whatever it takes to help our office run smoothly. Whether it's getting the conference room ready for a training or class or helping with an event she always steps in to help and makes sure we have everything we need. I also think she deserves the best dressed award for our Roaring 20's Open House. She looked amazing and was even dancing along with the music. Her grandson was pretty cute too. I personally would like to thank you for all your hard work. It does not go unnoticed!!
Mindy-
For this week's Core Values Award I choose Mindy. Mindy has a gift for looking at every task, big and small, to help improve, streamline or give it an "easy button" to make life better for everyone around her. She has the skill of being able to see what needs to be done and to also share and teach with a great deal of patience and understanding. I want to thank her for all she does to make us shine as individuals and a team! Mindy has a talent for transforming a room or an entire event to be perfect and professional. Thank you for all your fun ideas, hard work and dedication. I look forward to all of your new creative plans, and I have a feeling that the best is yet to come!
VICKIE:
When I met Vickie for the first time, it didn't take long to realize that she was special. Her full-of-life personality filled every room with energy and joy. It was exciting to watch her journey into the real estate world and eventually onto our team (aka: "home"). It wasn't surprising to watch how quickly she began to embrace and represent the values of our team. On a number of occasions, I've witnessed her passion for putting other people's needs first. I've also watched her humbly glean and learn from those around her, which is an amazing and unique trait! It is obvious that she loves her community and has a passion to give back and see others succeed. It is a wonderful thing to know that our clients are in good hands and I trust that Vickie will care for everyone she tends to, with integrity and joy, while working to get the job DONE.
Our team is blessed to have Vickie a part of our family and I look forward to watching her continue to bless those around her!
MARY ANN:
I am very excited and honored to present the Core value award to MaryAnn
MaryAnn represents servant leadership from her very core. She has unlimited patience and is willing to go the extra mile to help her teammates achieve their goals. I met MaryAnn a very long time ago and knew that she was special then, but working with her now, showed just how wonderful she really is. She serves our clients with kindness and integrity and it shows in each review she receives. With her big heart she takes on the task of helping the team with many details always with a smile and a hug. Her ability to bounce back when things don't turn out is commendable and serves as an example for us all. Not only does she deserve to be recognized for the many things that she accomplishes but also what she gives to us all. I am better because of her and we are blessed to have her on this team.